Rio de Janeiro Travel Guides
Practical and Updated Travel Guides to Rio de Janeiro
Are you considering or already planning to travel to Rio de Janeiro, Brazil? Wise vacation choice!
Rio is increasingly becoming the most sought-after travel destination in Latin America. Why? Extremely friendly people, good infrastructure, great food, unbeatable beaches, magnificent climate all year around, and much more!
Rio de Janeiro is getting more exciting, safer and popular than ever. Bear in mind, though, that the city has way too many things to do, places to visit, attractions to see, restaurants to eat at, samba clubs to go to, and many other activities. How can you figure it out all by yourself? You definitely need insiders' travel guides.
Plan your trip wisely and get the most out of your vacation in Rio with the two most essential Rio de Janeiro travel guidebooks:
---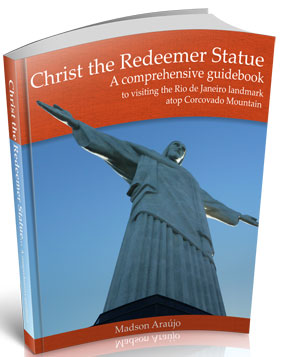 Do you know the visitor's record to Christ statue? 14,000 people in a single day! Yes, you are not the only one travelling all the way to Rio, eager to visit Brazil's most famous icon.
How can you possibly visit Christ without annoyances? How to beat the crowd? How to visit it without wasting your precious time?
Find the answers as well as fun facts and photos in the most practical travel guide to Christ statue.
SHOW ME HOW TO VISIT CHRIST THE REDEEMER…
---

Sugar Loaf is the second most visited attraction in Rio, and it is definitely a must-visit. But, what is the best time to visit it? How to save on the expensive admission fee? What to explore in the area nearby that most tourists don't experience? How safe are the cable cars?
Read all the how-to visit practical information as well as history, curiosities and interesting facts in the best guide dedicated to Sugar Loaf Hill in Rio de Janeiro.