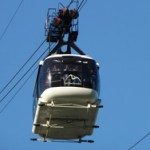 There are no reports of accidents, injuries or death on Sugar Loaf cable cars in Rio de Janeiro, Brazil. In fact, as a tour guide, I have been to the summit of Sugar Loaf more than 700 times, taking the cable cars 4 times on each visit. During all these rides, I have never seen any sign of malfunction. As a matter of fact, the Sugar Loaf cable cars are one of the safest in the world, according to cable cars authorities.
When visiting Brazil you will notice that some services and products are top-notch, while others are extremely disappointing. The Rio's Sugar Loaf cable cars are among the best services you will come across when visiting Rio de Janeiro. Since there are no fatalities in the history of the Sugar Loaf cable cars, there is no reason not to take the cable cars to go to the summit of Sugar Loaf.
Without a doubt, you will feel safe when visiting Sugar Loaf. Not only the cable cars are new and well-maintained, but overall, the infrastructure of Urca Hill and Sugar Loaf (and its surrounding) are satisfying.
Find here photos of Sugar Loaf in Rio de Janeiro, Brazil, as well as information on how to visit it
---