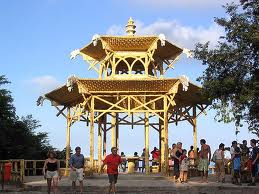 Vista Chinesa (Chinese Overlook) in Rio de Janeiro is a 380-meter (1,247-foot) high view surrounded by lush vegetation. This is one of the few perspectives in Rio from where you can have both Corcovado Mountain, the Christ statue and Sugar Loaf in one single photo.
The overlook features a Chinese-style pagoda, which was built in the early 20th Century. History records confirm that Chinese immigrants came to Brazil and settled in Rio de Janeiro in the 19th Century to start a tea plantation.
Opening Hours
Every day, 8 a.m. – 5 p.m.
Best time to visit the Chinese Overlook
Although the Chinese Overlook is on the way to Tijuca Forest, it is best to stop there on the way back to avoid aiming your camera into the sun (this is an issue from approximately November through March only). Afternoons are ideal – after 12 noon, or after 1 p.m. during Daylight Saving Time.
Note: if there are low-hanging clouds obscuring Corcovado Mountain, it can be sign that you may see very little or nothing from Chinese Lookout.
How to visit the Chinese Overlook
5 minutes will be enough to take photos and enjoy the view. The taxi then will drive you down to the Botanical Garden, which is just 10 minutes from the Chinese Overlook. On the way, there is a small, cool waterfall by the road where you can refresh yourself if you're wearing a swimsuit under your clothes, or just take a photo. (Taxi waiting cost at Chinese Overlook: R$3.30; US$1.75; €1.50 on the meter [5-minute stop])

Read more practical visiting information about Chinese Overlook and other must-see attractions in

My Rio Travel Guide – The Essential How-To Visitor's Guide to Rio de Janeiro.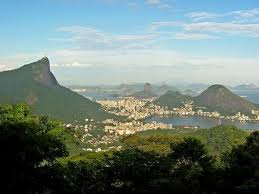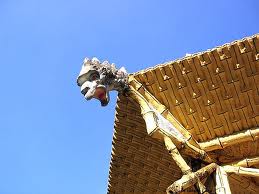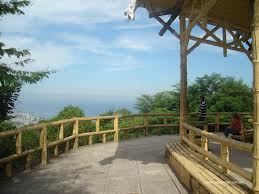 ---