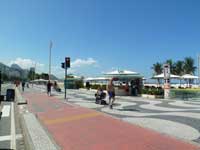 Rio de Janeiro's high tourist season is in December, January, February, and March, but mainly December and January, which are the summer vacation months in Brazil. Busy tourist times also include the month of July (Brazil's winter vacation).
It is important to be aware of the "peak" days and "extreme peak" days of any week, which are the busiest days of the year (no matters if it is high or low season) to visit Rio's landmarks such as Christ the Redeemer statue on Corcovado Mountain or Sugar Loaf Hill.
See below if your visit to Rio de Janeiro falls on a peak day or extreme peak day in the high tourist season.
Peak Days in High Tourist Season
• During the summer peak season (December through March), but mostly on sunny weekends in December and January.
• During Brazilian winter holidays (July), especially on sunny weekends.
• When one or more large cruise ships are in port. Saturdays and Sundays of December through March are the busiest days when approximately 3,000 to 9,000 passengers disembark for a day visit in Rio. The high cruise season is mainly from November to April, although some ships dock in October and May (low cruise season).
See the Rio de Janeiro cruise calendar in the Appendix of My Rio Travel Guide travel guide e-book to plan your visit preferably when there are no cruises in port. (It is best to visit the Christ statue and Sugar Loaf before one or more large cruise ships arrive at the cruise ship terminal, or after their departure.)
• On sunny weekends from the first weekend of May through the first weekend of June, when Cariocas (Rio's natives) pay half price at Rio de Janeiro's tourist attractions.
• The sunny and blue sky day after a couple of rainy days.
Extreme Peak Days in High Tourist Season
• During Carnaval (Saturday through Tuesday – Carnaval is usually in February but sometimes in early March)
• Around New Years Day
• During Brazilian long weekends (when a public holiday falls on a Thursday, Friday, Monday, or Tuesday)
Low Tourist Season in Rio de Janeiro
The low and mid tourist season is obviously all the other days/months not mentioned above, particularly April, May, June, August, September, October, and November. These are great months to travel to Rio de Janeiro — mild temperature, great photos, and few tourists at the tourist sites.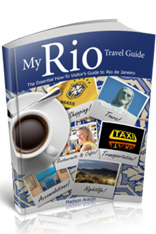 The Rio de Janeiro's not-to-be-missed tourist attractions must be visited at the right time to avoid all the lines, waiting and regrets: get a copy now of the guide e-book My Rio Travel Guide – The Essential How-To Visitor's Guide to Rio de Janeiro to experience Rio without annoyances. 
---