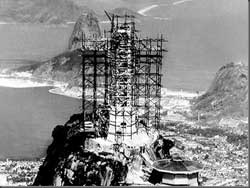 You may be wondering how did the Christ the Redeemer statue get there? Or, at least how did the head and the hands get there, or how were they attached to the statue?
Actually, the statue was built on site, atop Corcovado Mountain in Rio de Janeiro, Brazil. All the necessary construction materials as well as the workers were brought all the way up to the summit by a small cog-wheel train. Note that there were not helicopters at this time (the first successful helicopter flight in history was only in 1939).
Did they build the railway exclusively to bring the statue materials up? Not at all. The cog-wheel train railway already existed and was completed in 1884, with the purpose of taking tourists to the top of Corcovado Mountain to see the vistas and have a good time.
The summit of the mountain per se was THE tourist attraction in Rio de Janeiro. Christ the Redeemer statue construction started much later, in 1926. The statue was finished in 1931 and it did take full 5 years to make it.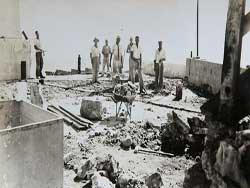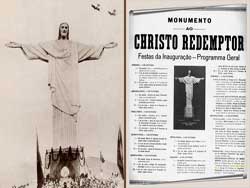 Building such as huge statue on the peak of a mountain at 710 meters (2,320 feet) above the city of Rio de Janeiro was quite a daring project, to say the least. History says that many locals did not believe or understand how a construction of such a scale and conditions could be possible?
The odds were many. The weather sometimes did not help: wind, cold, fog, rain, and lightning. Besides, the workers had to prepare the cement on site, with water from a fountain 300 meters (984 feet) away from the Christ the Redeemer construction site. In fact, many workers even slept in shacks right there on Corcovado summit.
Fortunately, during the construction there was no death, serious injured or fatal accident. It is said that the statue's construction was blessed.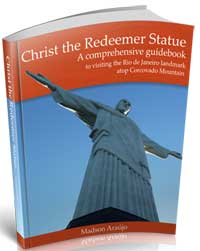 Planing to travel to Rio to visit Christ the Redeemer statue and want to know how to visit it the right away, or just want to read how the statue got there as well as other interesting stories? Whatever your questions are, you can find the answers in Christ the Redeemer Statue – A Comprehensive Guidebook to Visiting the Rio de Janeiro Landmark atop Corcovado Mountain. 
Read related articles:
---