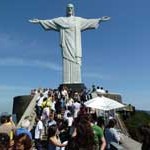 Over 1,800,000 people visit the Christ the Redeemer statue in Rio de Janeiro each year – and the number of visitors is growing year after year. The record of tourists in a single day is 14,000 (Easter in the year 2011) — way too many. You can imagine how crowd the top of Corcovado Mountain was on that long weekend.
Brazilians are increasingly visiting Rio de Janeiro for long holiday weekends (such as Easter) as well as during summer and winter national vacation. People travel by bus, by plane and by car from all over Brazil, and have as a top priority, to visit the Christ the Redeemer statue.
As the 2014 Brazil World Cup and the 2016 Olympic Games get closer, the number of visitors to Christ statue (as well as to Sugar Loaf and other classic sites) will increase year after year, and as the number of tourist raises, harder it will be to visit these landmarks without hassle.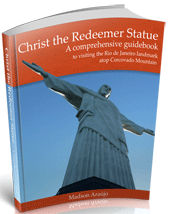 Planning a visit to Rio de Janeiro this year? Beat the crowd of people, avoid annoyances, save time and money by getting a pdf e-book on the subject: Christ the Redeemer Statue – A Comprehensive Guidebook to Visiting the Rio de Janeiro Landmark atop Corcovado Mountain. (Otherwise, download a free book preview below).

Get a FREE Preview by Email
Read related travel information about Christ the Redeemer in Brazil:
Best way to visit Christ statue in Brazil: by myself or on a guided tour?
Code of conduct for visitors to the Christ the Redeemer statue on Corcovado
Are there guides at Corcovado to explain about Christ statue and the vistas?
---