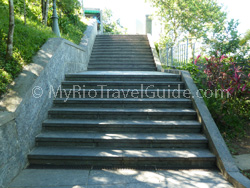 There are 220 steps to Christ the Redeemer statue atop of Corcovado Mountain in Rio de Janeiro, Brazil. One of the advantages of taking the stairs is that tourists can see Christ the Redeemer statue from different perspectives.
Let's start from the beginning. Take a taxi from your hotel to the Corcovado Train Station. The ride takes approximately 20 to 30 minutes depending on the location of your hotel. Then, buy your round-trip train ticket and then take the train to the top of Corcovado Mountain (710 meters or 2,328 feet above sea level). There are no steps at the Corcovado Train Station — the area is rather flat. The train ride takes only 20 minutes.
Upon disembarking the train on the top of Corcovado Mountain, take the 220 steps up to the sanctuary where the Christ the Redeemer statue is built. Take photos of the Christ the Redeemer statue and of Rio de Janeiro.
You can stay as many hours as you want by the statue. However, you can only see the Jesus statue from the outside since you can not go inside it. On the way down the stairs, you can stop at one of the cafes to take your time and keep enjoying the vistas.
Since 2003, visitors who don't want to or can't take the steps have the option to take one of three panoramic elevators plus two escalators. The elevator takes you up the equivalent of four storeys, so it is a rather quick ride — approximately 12 seconds. There aren't many ways to get to the statue upon getting to the top of Corcovado Mountain: you either take the stairs or the elevator + two escalators.
Note that neither the train ride, the elevators, the escalators or the stairs are scary.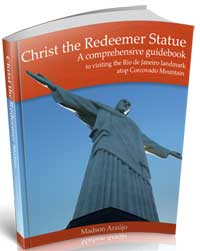 Planning to visit Christ the Redeemer statue in Rio de Janeiro? Beware that learning how many steps to the  statue are there is not enough to prevent you from the usual hassle, queues and chaos due to the excess of visitors. To avoid the problems associated with visiting the statue you need to read Christ the Redeemer Statue – A Comprehensive Guidebook to Visiting the Rio de Janeiro Landmark atop Corcovado Mountain.
Read related articles about Christ statue and Corcovado Mountain:
Facilities at Christ the Redeemer on Corcovado
Is it safe to visit Christ the Redeemer in Rio de Janeiro?
Subway station near Christ statue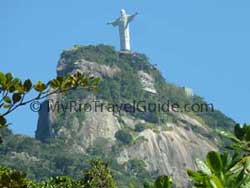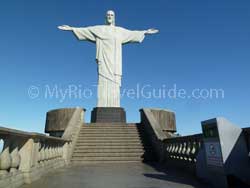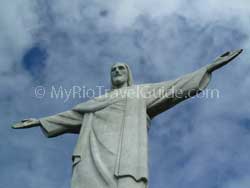 ---