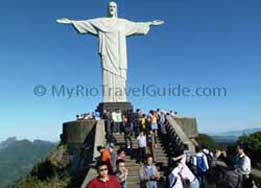 You ride on a Swiss-made red tram to get to the top of Corcovado Mountain, where is located Christ the Redeemer statue in Rio de Janeiro. The ride is smooth, steady, and safe. During the 20-minute long travel, you cross the Tijuca National Park's rain forest.
The tram departs every 20 or 30 minutes (depending on the demand) from the Corcovado Train Station (almost at sea level) all the way up to Christ the Redeemer statue. During the ride there isn't much to see, except the green vegetation on both sides. In fact, some tourists find the ride rather boring while others love it.
At some point, almost at the end of the ride, you can see a great view of Rio de Janeiro for about 10 seconds, and that's it. Passengers hardly have time to turn on the cameras. Fortunately, about two minutes later is it time to disembark the tram and take either the 220 steps, or the elevator and escalator to get to the sanctuary where the Christ statue is erected, and from where you can see the panoramic views over Rio de Janeiro.
On the way down, the tram takes the very same route back to Corcovado Train Station.
Note: Some tourists call it a 'tram', but officially it is a little train, in fact, a cog-wheel train.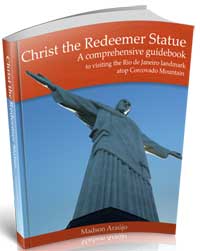 Planning a trip to Rio de Janeiro, Brazil? Read all the important travel information on how to visit Christ the Redeemer statue without standing in line and loosing time, get your copy of Christ the Redeemer Statue – A Comprehensive Guidebook to Visiting the Rio de Janeiro Landmark atop Corcovado Mountain.
Read topics related to Christ the Redeemer statue: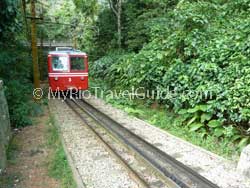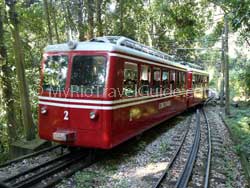 ---