A walk up Sugar Loaf Mountain in Rio de Janeiro, Brazil, is one of the most adventurous activities you can do while on vacation in Rio. The greatest part of the walk up is for anyone who is fit enough to face the more than 2 hours of walk. More towards the end of the walk though, you do need to climb the Sugar Loaf rock (the beginner-friendly section), and in this case, rock-climbing equipment (and courage) are necessary.
That's why in case you want to participate in walking up and rock-climbing Sugar Loaf you should consider hiring a local guide specialized in walking and climbing Sugar Loaf, who can supply the necessary climbing gear.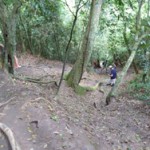 If, by any chance, you don't want to rock-climb Sugar Loaf, but want to have some nature-related activity or get to Sugar Loaf off the beaten path way, you can at least walk up Urca Hill, which is the hill half way to Sugar Loaf.
The trail up is in the forest, between Urca Hill and Sugar Loaf, and takes about 25 minutes to walk it up until the end (Urca Hill summit). There is no abysm, or contact at all with the Urca rock; all you see are threes and the trail up the forest.
In fact, you don't feel how high you are until you get to Urca Hill, 220 meters (726 feet) above sea level. Then, you can take the cable car up only to Sugar Loaf, instead of, as the majority of visitors do, which is to take the cable cars up to Urca Hill and then up to Sugar Loaf.
See photos of Sugar Loaf in Rio de Janeiro, Brazil as well as read useful travel Information about SugarLoaf Mountain.
---