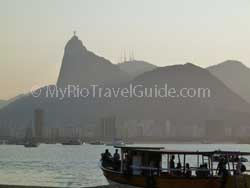 Christ the Redeemer statue is at an elevation of 710 meters (2,328 feet) above sea level. That's quite an altitude for a mountain right in the city. The statue's height is 38 meters (125 feet), including the 8 meters (26 feet) pedestal.
Other dimensions, sizes and specs as well as the weight of Christ the Redeemer statue are:
► Distance between the tips of the fingers: 30 meters (98 feet)
► Length of each hand: 3.2 meters (10 feet)
► Height of the head: 3.75 meters (12 feet)
► Weight of Christ statue: 1,145 tonnes
► Weight of the head: 30 tonnes
► Weight of each arm: 80 tonnes
► Weight of each hand: 8 tonnes
► Width of tunic at its feet: 6 meters (19.5 feet)
Due to the high elevation, both Corcovado Mountain and Christ the Redeemer statue can been seem from several districts in Rio de Janeiro. Actually, you can see the statue right from a specific section on Copacabana Beach (you can get a tan while seeing the statue!).
One of the nicest ways to get to Christ the Redeemer on top of Corcovado Mountain is on train, and because of the elevation of the mountain the cog-wheel train takes 25 minutes to arrive on the summit.
Christ the Redeemer height impresses most of the people. The majority of visitors find the statue to be bigger than what they thought it was.
Whether or not you get surprised by the elevation,  height and measurements of Christ the Redeemer statue, it will be worth a visit. Unless, of course, you get annoyed by the hassle associated with queuing and standing in line to get to the statue. Fortunately, that can be completely avoided. To learn how, read all the secrets and tips in Christ the Redeemer Statue – A Comprehensive Guidebook to Visiting the Rio de Janeiro Landmark atop Corcovado Mountain.
Read related article: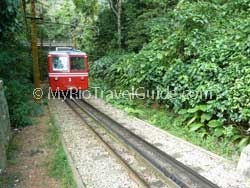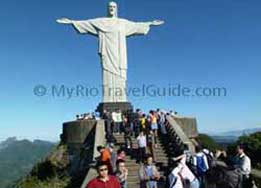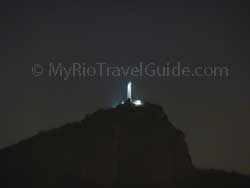 ---